Our Online Marketing Blueprint for 2020
Our marketing strategies for small businesses are based on a tried and proven model of nailing the fundamentals and taking advantages of new opportunities
Performance Marketing
See our standards for Google and Facebook pay-per-click management.

Search Engine Optimization
See how we approach SEO for Google, Yahoo, and Bing.

Web Development
See the principles our websites are based on, as well as our standards for design.
Performance Marketing Blueprint
Google and Facebook are constantly updating their ad platforms with new features, efficiencies, and options. We stay on top of these changes and make sure you get the most from your pay-per-click advertising.
Driving Down Your Cost Per Lead Through Ongoing Campaign Performance Optimization
The key to a successful performance marketing campaign is ongoing optimization. From keyword curation to ad creative testing, these optimization efforts are the different between an amateur and a professionally-run campaign.
Proper Keyword & Demographic Targeting
We don't just dump keywords into a Google Ads campaign, or blanket an entire unfiltered area in a Facebook Ad. We take the time to set it up correctly.
For Google, this means:
Using exact and phrase-match keywords only
Using negative keywords to filter out irrelevant combinations
Researching who is advertising on what keywords
Ensuring selected keywords meet the desired user intent
Only selecting keywords relevant to your business and services
For Facebook, this means:
Properly targeting the right location and demographics
Filtering out audience demographics that don't meet your specifications (IE- excluding underage audiences if your service is not relevant to them)
Targeting audiences with interests relevant to your services
Negative Keywords & Audience Filtering
We track which keywords and audience segments are not performing, and then exclude them from the campaign. This directs your media budget towards keywords and audiences proven to perform.
This process is ongoing – we action data as we become able to draw conclusions.
Date & Time Targeting
We track which keywords and audience segments are not performing, and then exclude them from the campaign. This directs your media budget towards keywords and audiences proven to perform.
This process is ongoing – we action data as we become able to draw conclusions.
Search Engine Optimization Blueprint
As Google refines its algorithm, how SEO works and what makes it effective changes over time. We stay on top of algorithmic changes and ensure our SEO methods remain viable and long-lasting.
Our SEO Approach Centers on Helping Google's Users Get Maximum Value From Your Website
Google is pushing to make the web an easier place to navigate. We focus our efforts in alignment with Google's focus, ensuring that your website is not placed at risk and only grows in favour with Google.
Rich Content Experiences
We make sure the content on your website is informative and actionable. Whether someone is researching or ready to buy, the content experiences we create via SEO will help users meet their goals.
This focus on helping users meet their goals is what Google's focus is, and because we think this way, our efforts resonate with Google.
On-Site Technical Foundations
Your website will always meet the high technical standards Google has for websites that it wants to rank well, including mobile experiences, fast load times, and rich media.
We are constantly reviewing website performance and making technical changes as needed to facilitate campaign success.
Reputation Management
How the rest of the world perceives your website is a key component of SEO. We ensure that your local reputation is strong, and that like-minded websites and complementary businesses and community organizations are talking about you.
We build website reputation in a natural way that ensures long-lasting ranking success.
Website Development Blueprint
Not all websites are created equally, and we are committed to always improving ours to ensure we remain competitive. Our websites are easy to use, awesome on mobile, and kept up to date with the latest trends, technologies, and standards.
Purposeful Designs 
We cut out unnecessary glam and focus on creating clean, good-looking layouts and designs that encourage users to take action.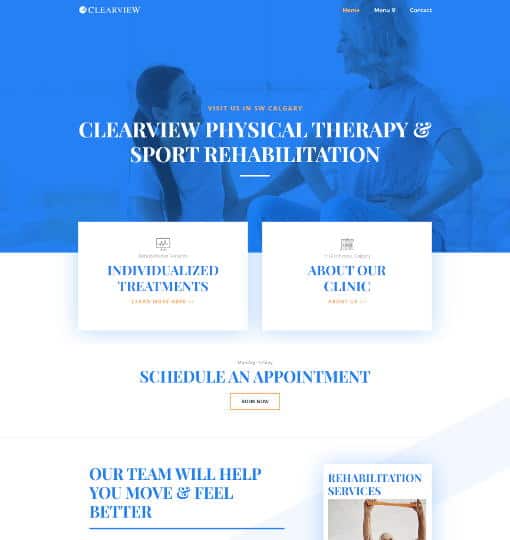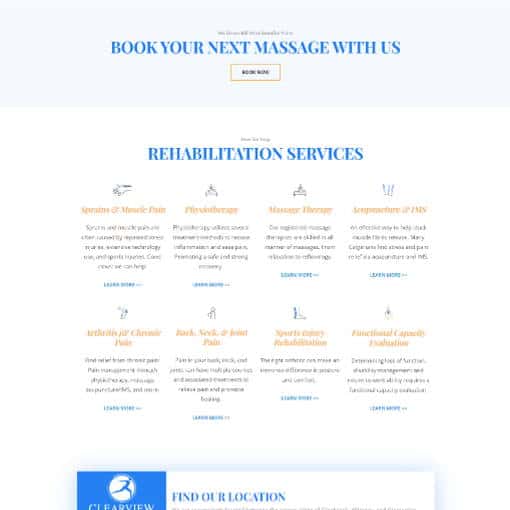 Built for People & With Intent
Our websites resonate with people because they are designed for them. This means useful layouts, refined messaging, and clear messaging.
Our Websites Leverage Proven Efficiencies & Elements to Reduce Cost, Shorten Development Time, & Improve Longevity
A website is more than a website: it's an extension of your marketing team. With more than 300 websites under our belt, we've learned what matters most in an effective website for today's small businesses.
Conversion-Focused Layouts
Our layouts are tested and refined over time, and we leverage these learnings when planning our websites. Specifically, this means:
Every page has a clearly-defined purpose
Each page targets a unique service and keyword set
Layouts include clear call to actions and next-steps
Media is optimized for size and load time
Mobile responsiveness is given priority
Built-In Marketing Technology
All our websites include:
Contact forms with message storage/tracking
A/B testing functionality (to test specific elements on a page)
Google Analytics and conversion tracking
A feature-rich blog
Made to be Self-Managed
You should never have to pay for basic website changes unless you really don't want to do it yourself. Our websites include technology and functionality designed to make it easy for you to manage them, including:
A secure WordPress installation
All themes and plugins properly licensed/registered
Easy to manage SEO tools
A powerful drag and drop visual page editor
Easy backups
Book a No-Obligation Consultation
If you're curious about how we could help, let's chat – we'd love to earn your business.